Baigan (Roasted Eggplant) Choka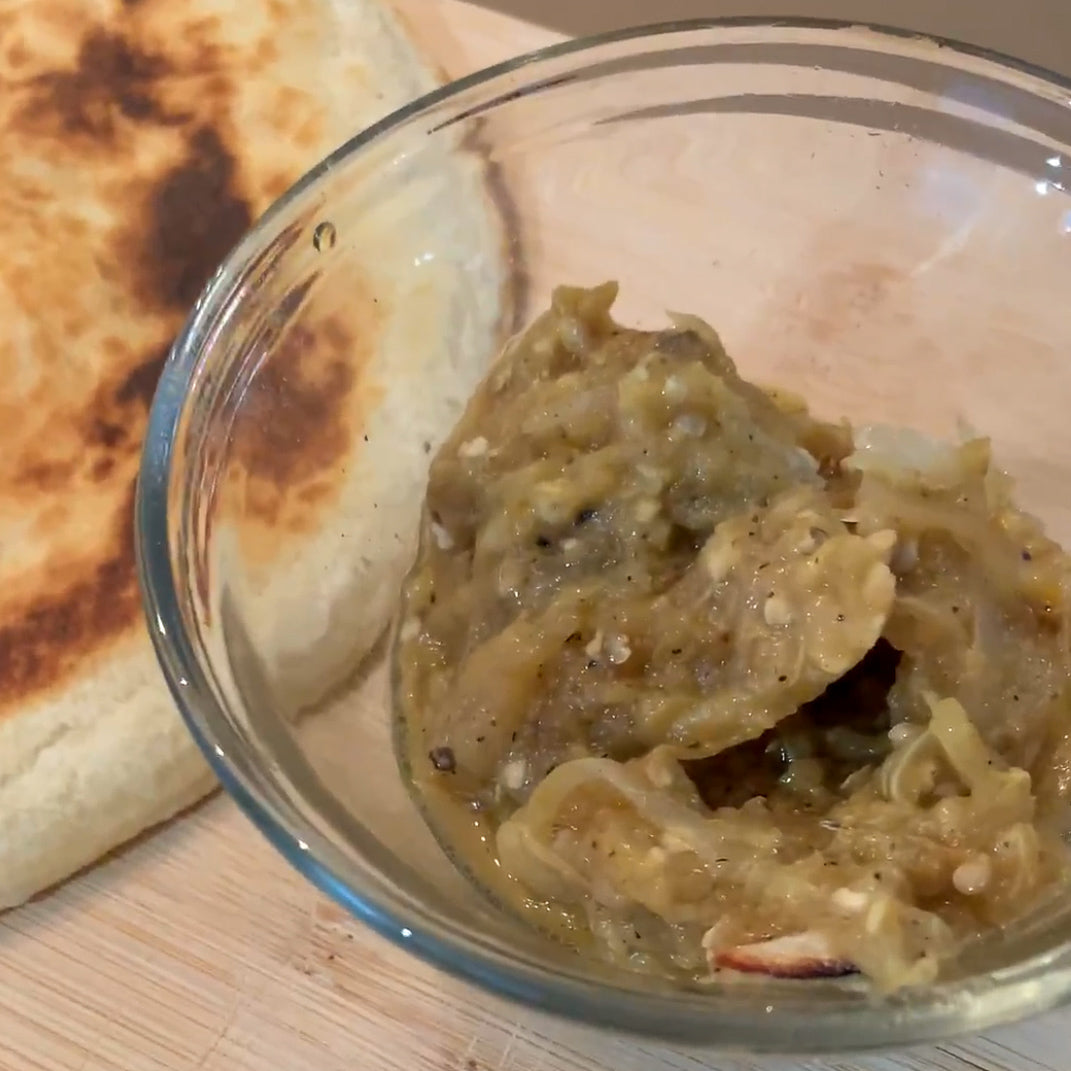 Try this savory and smoky dish that pairs well with rice or any flatbread such as roti, naan, and paratha. Flavorsome, easy to prepare, and vegan friendly as well. This dish can be served for breakfast, lunch, and dinner. For best results you will want access to an open flame, but roasting the eggplant with an oven broiler works well too!
Ingredients:
2 eggplants
½ cup yellow onion finely sliced
2 pimento peppers (optional)
2 garlic cloves sliced lengthways
1 tablespoon olive oil
1 teaspoon salt
1 teaspoon black pepper
1 teaspoon sugar
To Chongkay (flavoring oil):
2 tablespoons olive oil
2 garlic cloves chopped
1 teaspoon cumin seeds
Directions:
Wash and dry eggplant.

Roast eggplant over an open flame until the outside is charred. Eggplant should appear limp and wrinkled.

Carefully remove the eggplant and let it cool down. Liquid will leach from eggplant while cooling.

Slice open the eggplant and scoop the inner contents into a bowl. Remove any charred outside skin of eggplant and discard any burnt bits.

Use a fork to mash into a puree.

In a medium saucepan add oil and bring to medium heat.

Add onions, garlic and pimento pepper. Sauté until golden brown and fragrant.

Add eggplant mash, sugar, salt and black pepper.

Drizzle the strained oil from the chongkay process over the eggplant and mix thoroughly.

Adjust salt, sugar, and pepper to taste.
Chongkay Directions:
Heat olive oil in a medium saucepan over medium heat.

Add garlic and cumin seeds until dark golden brown.

Strain over roasted eggplant mixture.
Notes:
---
---
Leave a comment
Comments will be approved before showing up.