Grated Egg Toast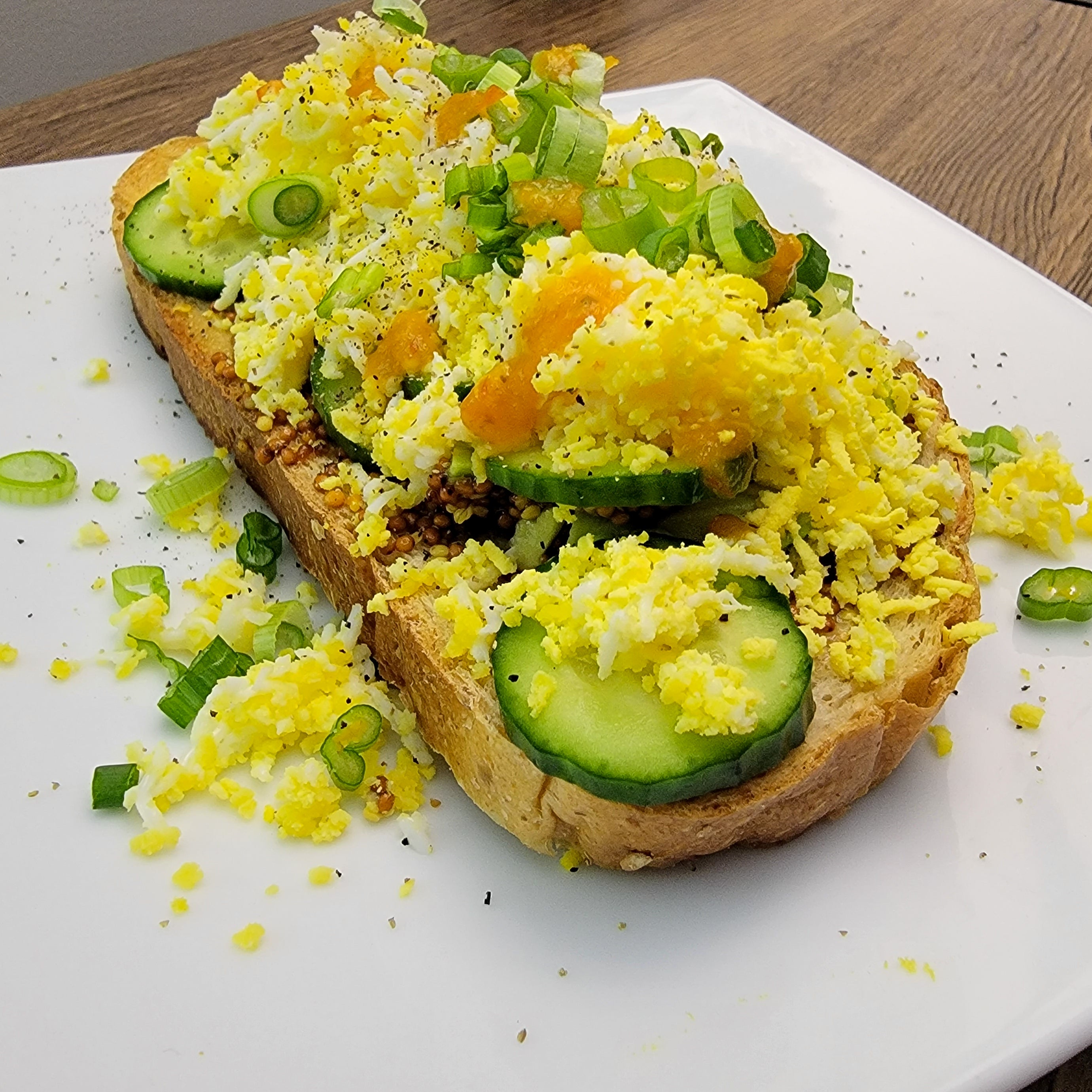 Take your breakfast to the next level with this delicious recipe. Grated Egg Toast is easy to make and requires simple ingredients, and you can customize it to your liking and truly make it yours.The recipe yields two servings so just multiply up for more. Grated Egg Toast is a great way to start the day. 
Ingredients:
2 hard boiled eggs
2 slices rye bread
1 small to medium sliced cucumber
1 avocado
1 chopped green onion stalk
2 tablespoons ground mustard
1/2 teaspoon salt
1/2 teaspoon ground black pepper
1 teaspoon trini pepper sauce (hot or original)
Directions:
Boil eggs until the yolk is fully set inside. Peel and refrigerate the eggs to firm up and help with grating. Let them rest in the refrigerator for 30-40 minutes at least. 

Grate hard boiled eggs using a sharp grater using the appropriate hole size to ensure the mixture is fluffy instead of mushy. 

Toast bread until golden brown and smear stone ground mustard on slice. 
      4. Slice avocado thinly and spread on toast.


      5. Top the avocado toast with sliced cucumber followed by grated egg.
       6. Top with chopped green onion, and season with salt, black pepper, and drops of Trini Pepper Sauce to your liking.
Notes:
Feel free to use any crusty bread, artisanal bread or sourdough bread. Any firm bread will work with this recipe so use your favorite bread. 

Other ingredients you can add to the recipe are grated cheese, shallots, mayonnaise, and chili flakes. 

Use half of an avocado per slice of bread.

Use one whole egg per slice of bread.
---
---
Leave a comment
Comments will be approved before showing up.