Shrimp Ball Wontons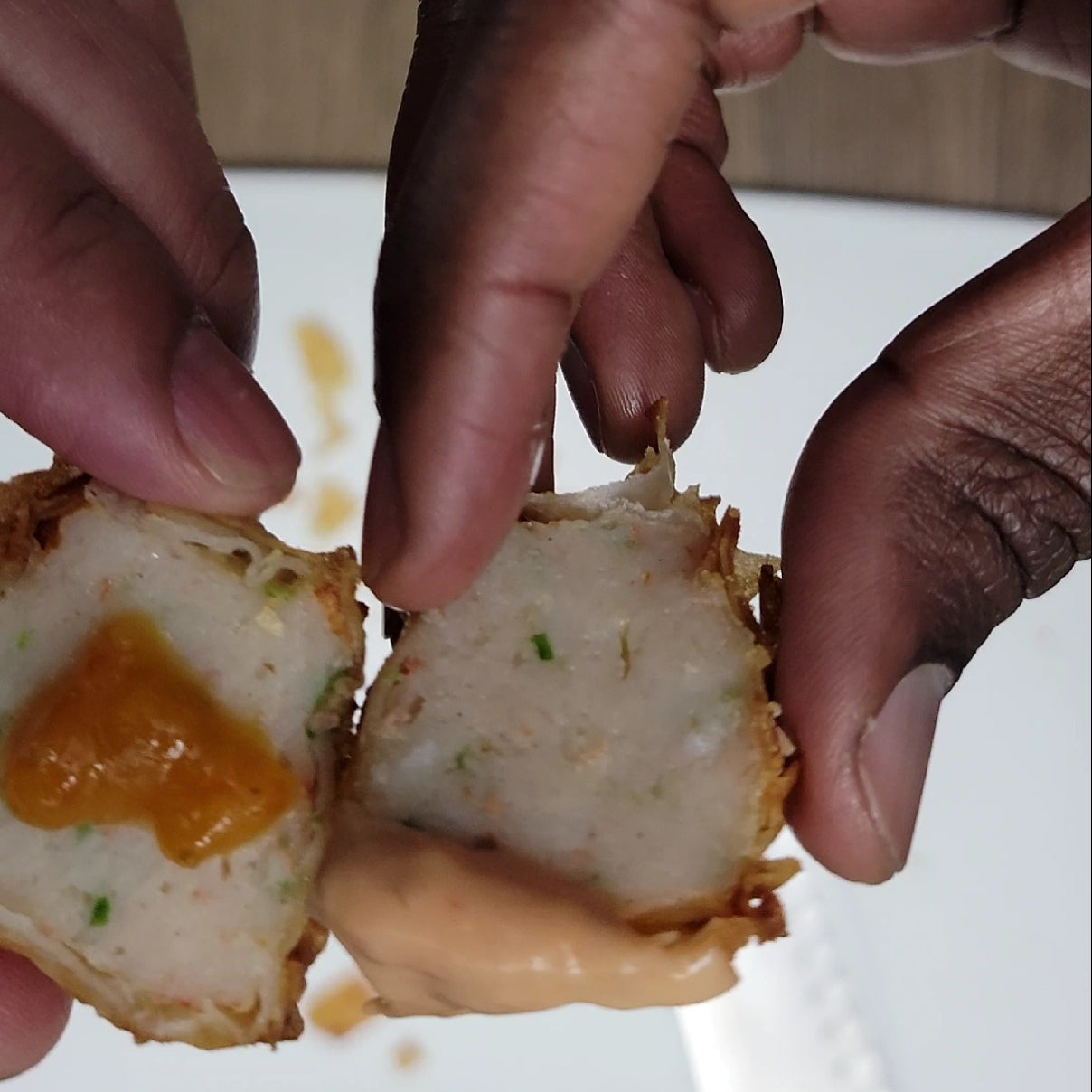 These extra crispy Shrimp Ball Wontons are a delicious appetizer. Packed with flavor and easy to  make at home. Great idea for a party or significant other. These can be prepared a day in advance or frozen before frying as well. 
Ingredients:
1 lb peeled and cleaned shrimp
1 pack frozen spring roll wrappers
2 stalks green onion
1 teaspoon peeled, grated, fresh ginger
1 teaspoon salt
1/2 teaspoon ground white pepper (or substitute ground black pepper)
1 teaspoon sugar
1 tablespoon cornstarch
2 tablespoons Trini Pepper Sauce (optional)
Oil, for deep frying
Directions:
Coarsely chop the shrimp into small pieces. Add salt, sugar, ground pepper, cornstarch, grated ginger, chopped green onion, and Trini Sauce (optional) into a bowl. Mix all ingredients thoroughly. (Optionally add all ingredients into a food processor and blend coarse).  
Thaw and then peel 5 pieces of spring roll wrappers at a time. Fold and cut into thin strips. Fluff out into a bowl and continue until finished.
Scoop shrimp mixture on top of cut spring roll wrappers. Cover the shrimp mixture ball with wrap strips and use your hand to form it into a ball. Repeat.
Preheat frying oil to 350 degrees Fahrenheit.
Fry shrimp balls until golden. About 4-5 minutes. Be sure to move shrimp balls around in oil for an even golden brown color. See, notes for cooking with Air Fryer below.
Remove shrimp balls to a cooling rack.
Spicy Mayo Dipping Sauce:
1 cup mayonnaise 
1 cup ketchup
½ cup Trini Pepper Sauce (Original or Hot)
Ginger Vinegar Dipping Sauce:
2 teaspoons peeled, grated, fresh ginger
2 tablespoons soy sauce
2 tablespoons dark vinegar
1 tablespoon chopped green onion
Notes:
---
---
Leave a comment
Comments will be approved before showing up.