Cassava (Yuca) Fries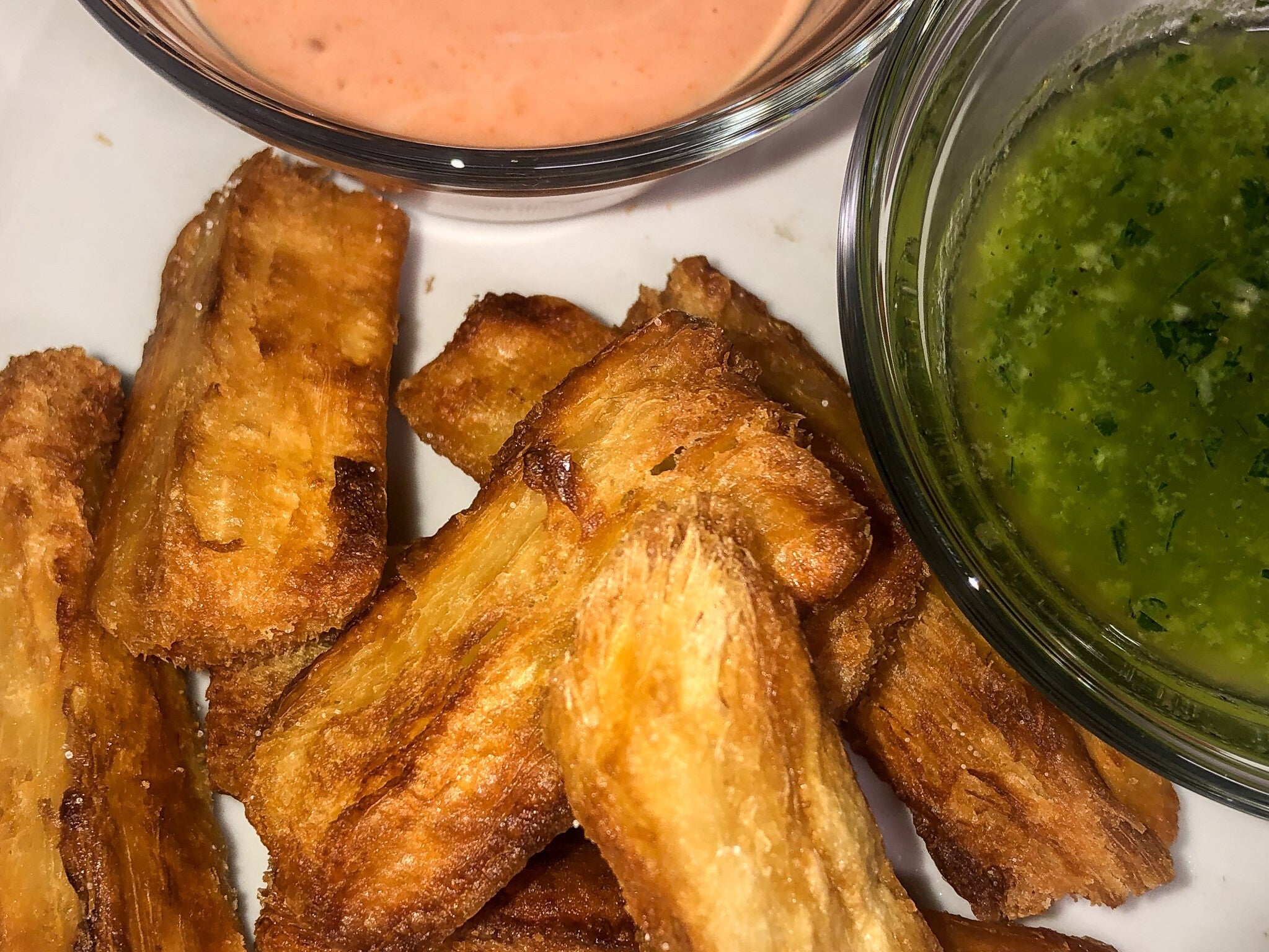 Cassava (Yuca) Fries
Crispy on the outside but soft and creamy on the inside. Sounds delicious? Try this Yuca Fries recipe and switch it up from the ordinary potato fries. Perfect as a quick snack or side dish. Also, this dish is great for parties and gatherings. 
Ingredients:
3 lbs fresh cassava (yuca)
2 to 3 cups of oil (vegetable, canola or avocado) 
Salt to taste
Spicy Mayo:
1 cup mayonnaise 
1 cup ketchup
½ cup trini pepper sauce (original or hot)
Cilantro Sauce:
4 to 6 garlic cloves
1 to 2 cups of fresh cilantro
½ to 1 cup olive oil
4 tablespoon water
2 tablespoon apple cider vinegar 
1 teaspoon salt
¼ teaspoon ground cumin
Directions:
Cut off both ends of the cassava. Cut them into 3-4 inch rounds.

Make a shallow cut lengthwise into the skin of the cassava. Work your thumb under one side of the cut to get underneath the peel. Work your thumbs down to peel the skin off.

Bring a pot with plenty of water to cover to a boil. Add approximately 2 tablespoons of salt per 8 cups of water. Use less salt if desired. 

Cook for 20 to 30 minutes or until fork-tender. Drain and let cool. 

Cut the pieces in half and remove the inner root/membrane. Then cut the cassava into fry shaped pieces.

Heat the oil in a large skillet over medium-high heat until hot but not smoking.

Fry the cassava in batches, turning once, until golden brown.

Remove and drain over paper towels or wire rack. 

Sprinkle cassava fries with salt while they are still hot. 
Spicy Mayo Directions:
Combine all ingredients and mix thoroughly. 

Adjust trini pepper sauce to desired heat level. 

 
Cilantro Sauce Directions:
Combine garlic, cilantro, cumin and salt in a food processor or blender to create a paste.

While the food processor is running, drizzle in olive oil gradually.

Add small amounts of water until the sauce is runny.

Add 1 to 2 teaspoons of vinegar according to your taste. 

Refrigerate until ready to serve. 
Notes:
When you peel the cassava it should be completely white. If there are dark spots or lines then the root has gone bad and should be discarded. 

Cassava will be white before cooking and will change color when cooked. 

Fries can be cooked in the oven instead. Preheat the oven to 425 degrees Fahrenheit and bake for 25 minutes or until slightly brown, turning twice.  

You can also use frozen cassava (yuca) which can be found in most grocery stores in the international frozen section.

Cassava (yuca) is naturally gluten-free.
---
---
1 Response
Leave a comment
Comments will be approved before showing up.