Lumpia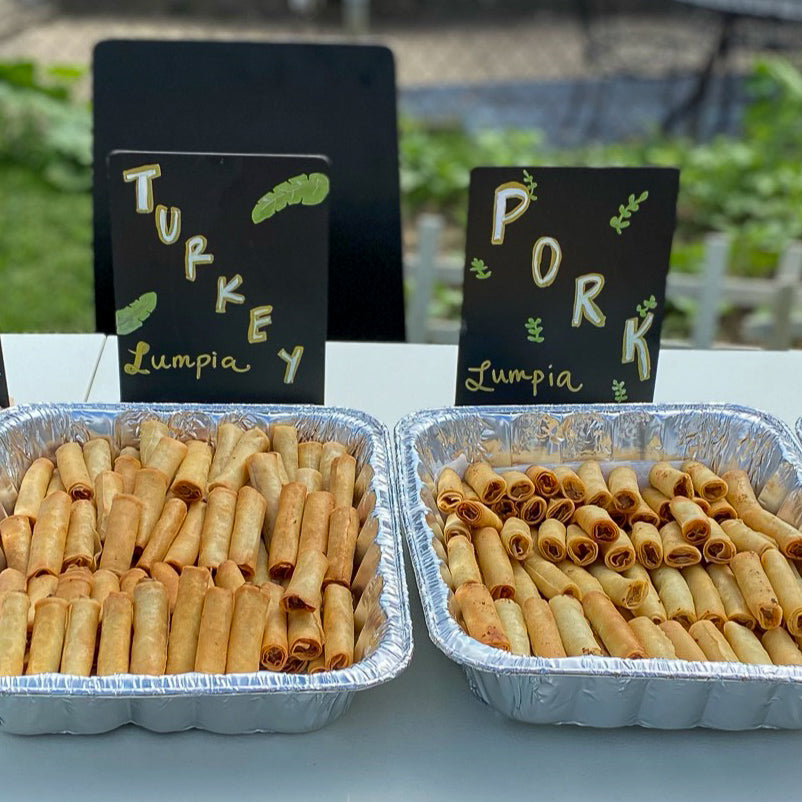 A crispy and delicious Filipino dish that is great for parties, as a side, or for a snack. It is traditionally made with ground pork but you can substitute with the filling of you choice, ground turkey is great!
 Ingredients:
1 tablespoon vegetable oil
2 cups vegetable oil for frying
1 pound ground pork (can sub turkey, beef, tofu)
1 egg
2 cloves garlic
½ cup onion
½ cup carrots
½ cup green onions
½ cup green cabbage
1 teaspoon ground black pepper
1 teaspoon salt
1 teaspoon garlic powder
1 teaspoon soy sauce
30 lumpia wrappers
Filling:
1) Crush and dice the 2 cloves of garlic, chop the 1/2 cup of onion, mince 1/2 cup of carrots, chop 1/2 cup of green onion, and thinly slice 1/2 cup of green cabbage.
2) In a mixing bowl combine all of the ingredients (except for the Wrappers).
3) In a skillet heat 1 tablespoon of vegetable oil and cook the filling mixture.
4) After the pork is completely cooked, remove the filling from heat and let cool.
Rolls:
1) To make the rolls, orient the wrap diagonally in front of you, place two heaping tablespoons of the filling in a line, about an inch or two from the bottom corner. Take the bottom corner and roll it over the line of filling, tucking it under the filling. Roll the wrap tightly so that here are no air pockets. When you reach midway of the wrap, fold the left and right corners into the center and continue rolling the wrap tightly. Just before you reach the top corner wet it with a little water from your finger (so that it will stick and stay closed) and then finish rolling. Repeat this process until all the wraps are finished. (Picture below shows a dessert version being made with plantain. brown sugar, and mango as the filling)
2) Heat 2 cups of oil in a pan over medium heat (there should be enough oil to submerge the rolls halfway). 
3) Put the rolls into oil and cook them until golden brown on one side, then flip them to finish cooking.
4) Place the rolls on a paper towel to dry.
---
---
1 Response
Leave a comment
Comments will be approved before showing up.