Sautéed Saltfish and Coconut Bake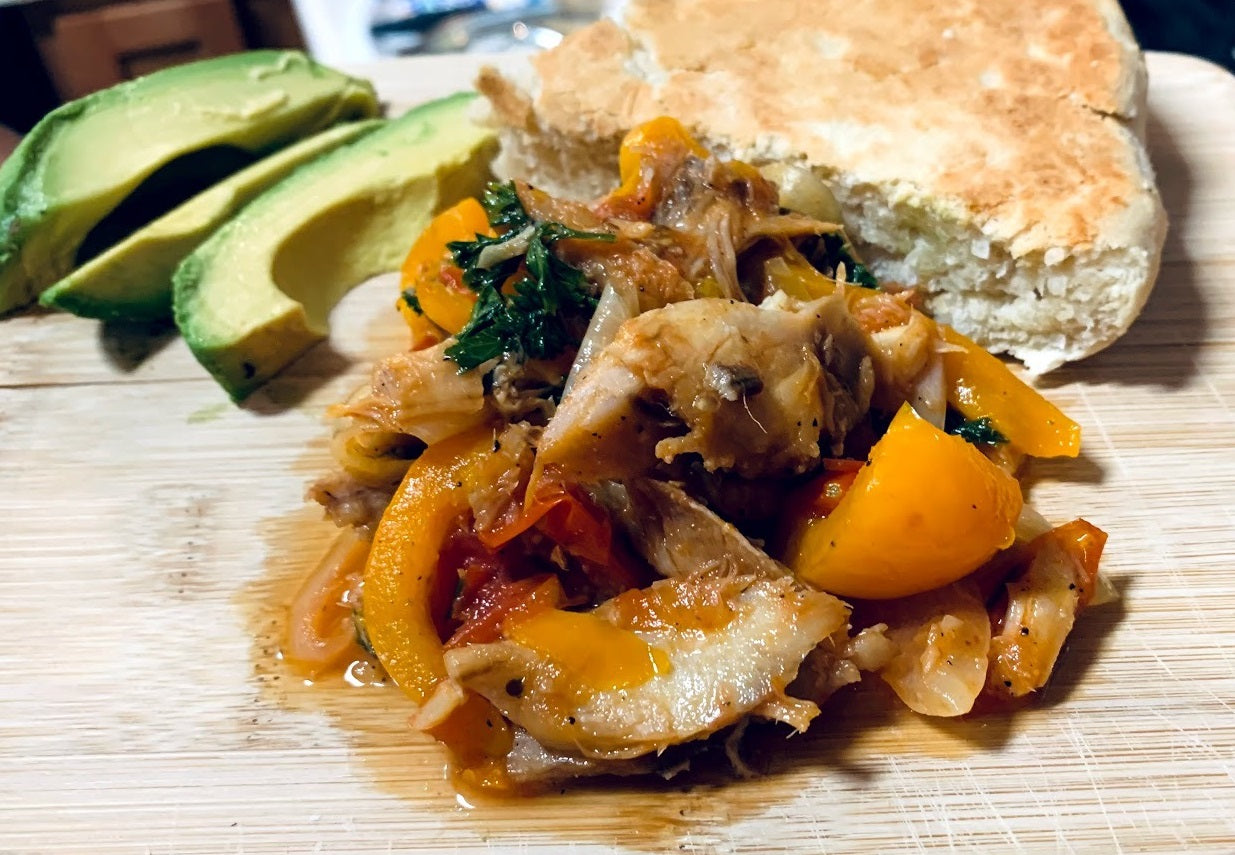 Saltfish is a staple food in Trinidad and Tobago and one of my favorite dishes. It is a breakfast food that is most often served with coconut bake or fry bake but can also be eaten for lunch or dinner. The saltfish is usually placed inside a sliced open coconut bake. Also, goes well with lettuce, sliced tomatoes and avocado on the side. 
There are many different variations of the coconut bake recipe, but the essential ingredient is the coconut. The result is a subtle sweetness that accentuates the flavors its paired with. It's best eaten immediately after cooling for a few minutes, when the bread is softer. Try it for yourself and see, there is nothing like bread coconut!
Ingredients:
For Sauteed Saltfish
10-16 ounces salted cod/pollock fish (de-skinned and deboned)
1 cup tomato
1 cup bell pepper
1 cup sweet yellow onion
3 sprigs fresh thyme
3 garlic cloves
2 tablespoons olive oil
2 tablespoons ketchup
2 tablespoons water
2 tablespoons Trini Pepper Sauce
½ teaspoon black pepper
½ lemon
For Coconut Bake
4 cups flour
2 cups grated coconut
4 tablespoons salted butter
1 ½ cup warm water
1 tablespoon sugar
2 ¼ teaspoons (1 packet) yeast
1 teaspoon baking powder
½ teaspoon salt
Directions:
For Sauteed Saltfish
Bring a large pot of water to a boil with enough water to cover saltfish.

Add saltfish to boiling water and boil for approximately 15-20 minutes until most of the salt has been removed from saltfish.

Drain saltfish and return to the pot.

Set saltfish aside to cool.

Slice the bell pepper, yellow onion, and tomato.

Chip saltfish by hand or with a fork into small pieces. Squeeze lemon juice over saltfish to remove some of the freshness.

Add olive oil to the frying pan and bring to medium-high heat.

Fry sliced garlic until slightly golden brown.

Add tomatoes, onions, bell pepper and saute.

Add water, ketchup, saltfish, Trini Pepper Sauce, and thyme.

Mix thoroughly and add black pepper, olive oil, and pepper sauce to your liking. 

Reduce the heat to low until liquid in the pan is reduced. 

Set aside until ready to serve
For Coconut Bake
Add dry ingredients to a large mixing bowl.

Melt butter then add to dry ingredients ensuring it's mixed thoroughly.

Add grated coconut and water to the dry mix until dough like consistency is achieved.

Knead dough until all ingredients are incorporated throughout. 

Let dough rest for 5-10 minutes until dough rises.

Preheat the oven to 350 degrees Fahrenheit. 

Butter a cast-iron or baking pan.

Spread dough and place into a baking container or cast-iron pan.

Butter top of dough and prick with fork.

Bake for approximately 20-30 minutes until golden brown and baked thoroughly. 
Notes:
Salted Cod/Pollock can be found in hispanic or international supermarkets or stores usually. Whole Foods usually carries it as well. 

Be mindful of the salt content. If the fish is too salty you can pour additional hot water over it. You can always add salt but cannot take it away once this is made.

Dried shaved coconut may be used as a substitute for fresh grated coconut.
---
---
2 Responses
Leave a comment
Comments will be approved before showing up.